In collaboration with AKKA Project and Africa First by Serge Tiroche, with the support of Ca' Pesaro, the International Gallery of Modern Art, the Africa 1:1 Lab will feature five young artists from Kenya, Uganda, DRC and Zimbabwe. The residency will culminate in a large site-specific exhibition at Ca' Pesaro in Venice, which will be inaugurated on the 20th May 2023.
The project is being held in conjunction with the 18th Venice International Architecture Biennale, curated by Lesley Lokko.
The participating artists are Option Nyahunzvi (b. 1992 Zimbabwe), Pamela Enyonu (b. 1985 Uganda), Alexandre Kyungu (b. 1992 DRC), Maina Boniface (b. 1987 Kenya), and Ngugi Waweru (b. 1987 Kenya).
The residency is meant to inspire curiosity, creativity, and learning among the artists by providing them access to the vast Ca' Pesaro art collection. Through the contemporary response of the artists, the project aims to encourage new cultural exchange and dialogue in Venice.
Option Nyahunzvi (b. 1992, Zimbabwe)
Option Dzikamai was born in Harare, Zimbabwe, in 1992, and grew up in Rusape, Zimbabwe. He began sketching at an early age, and soon developed a versatility that allows him to elegantly express himself when printmaking, painting, or using mixed media.
The artist graduated with a Certificate in Visual Arts and Design awarded by Harare Polytechnic College in association with the National Gallery School of Visual Arts and Design in 2015. In the same year, he won the first prize in Graphics for the work Homeless Migrants in an exhibition called Migration at Gallery Delta in Harare, Zimbabwe.
The artist is interested in the impact of technology on urban youth in townships and his visual language introduces a dialogue about present-day Zimbabwe, its tradition and culture, hardships and a quality of natural magic that permeates the personal lives of its inhabitants.
Option had his first solo exhibition in 2015, and has since then featured in a number of exhibitions and art fairs both on the domestic and international scene.
Pamela Enyonu (b. 1985, Uganda)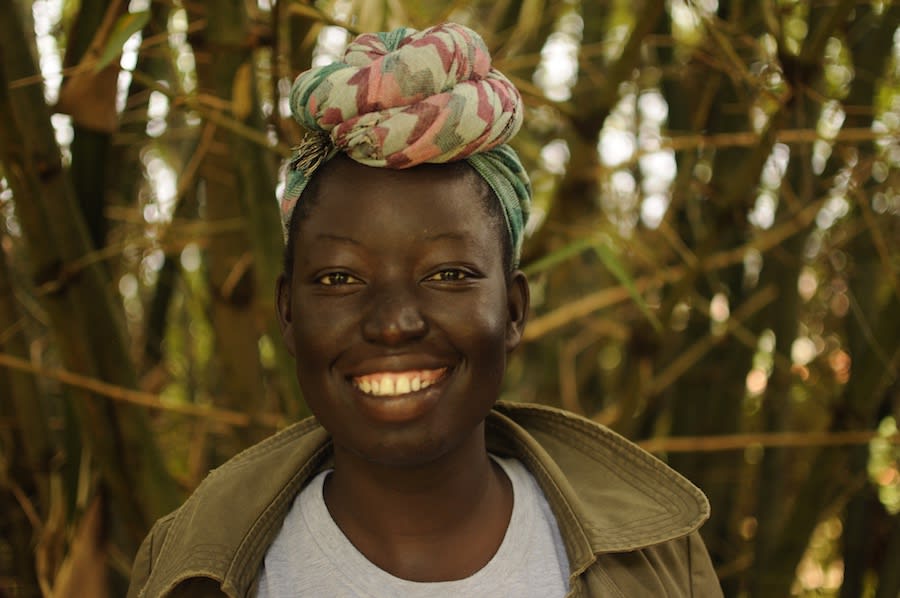 Pamela Enyonu was born in 1985 in Kampala, Uganda where she currently lives and works.
Pamela studied Art and Design at the Kyambogo University Banda of Kampala, Uganda. Her artistic career started in 2017 with a 3 months residency at 32 degrees East, in Kampala, where she navigated the politics of identity, trauma, and healing. After her residency, she was invited to host a solo exhibition in June 2017. Another artist's residency in Paris, France, followed in 2020, on the occasion of Africa 2020. In 2022, Enyonu has concluded her residency at AKKA Project in Venice, Italy, also being hosted by ProHelvetia, Zurich, Switzerland, in the same year.
Pamela's style is inspired by stories, materials, and the process it takes to transform them into works of art. Her works present a tactile and 3-dimensional quality that richly layered textures exploring narratives on gender, identity, empowerment, and self-awareness.
Pamela is particularly interested in the "untokenized" experiences occupying the intersection of empowerment, mental health, and identity. She continuously engages with the different communities through collaborations, workshops and seminars.
Recently, some of Pamela's latest works have been acquired by Africa First, and have become part of its private collection of contemporary African art.
Alexandre Kyungu (b. 1992, DRC)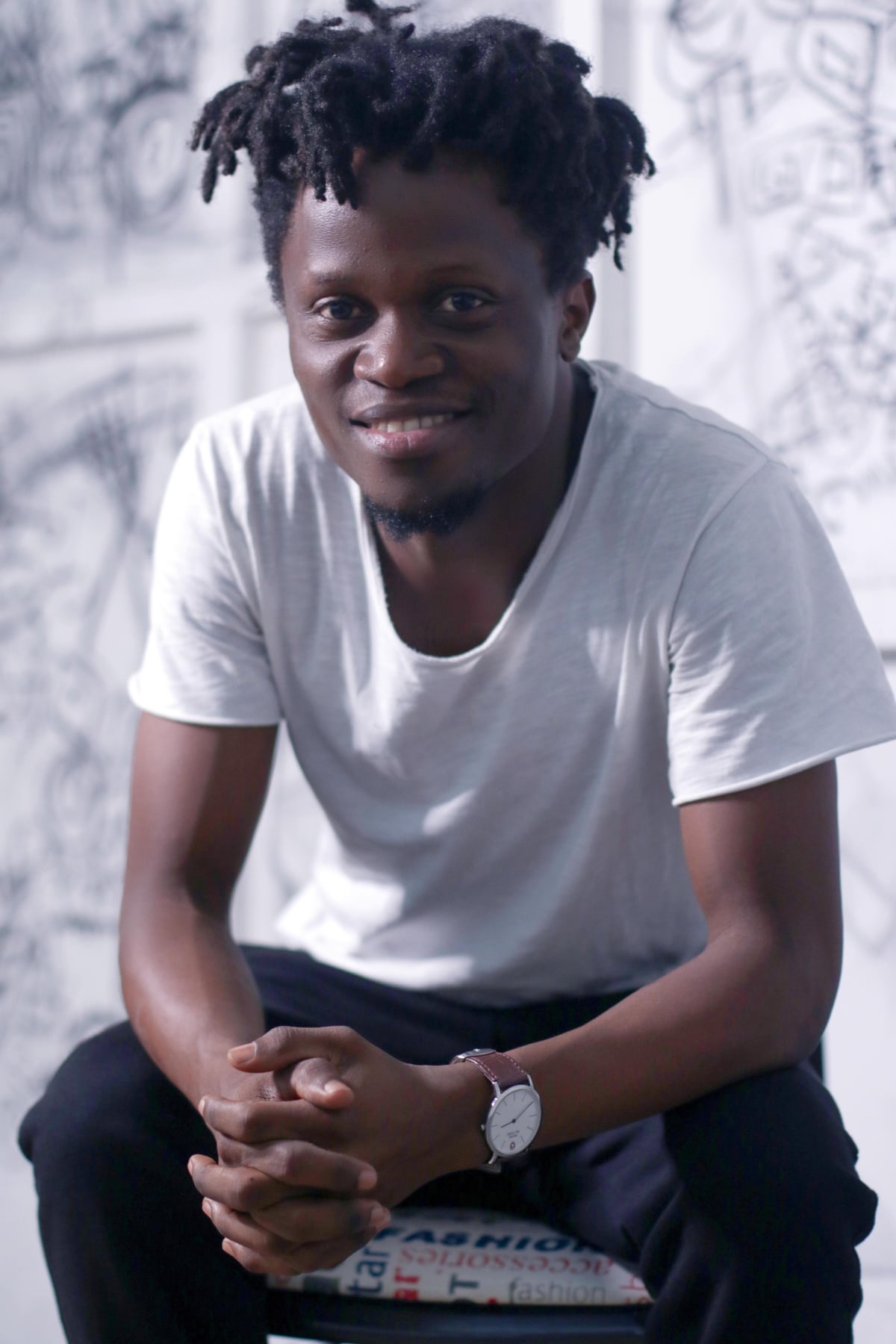 Alexandre Kyungu Mwilambwe was born in 1992, in Kinshasa, Democratic Republic of Congo, where he currently lives and works.
He studied art at the Academy of Fine Arts in Kinshasa, he is co-founder of Vision Total Group and works in collaboration with Kin Art Studio (KAS).
Alexandre has participated in several group exhibitions and residency workshops in his country and abroad.
Kyungu combines painting, drawing, sculpture, and installation in his artistic practice. His favorite medium is the "door" that, for him, is synonymous with openness, meeting, and discovery in an increasingly universal society. His work is built around questions related to the urban space, exploring the parallels between urban mapping and scarification of the body.
His work functions as a "cartographic essay", in which he tries to build a new and global world while merging and juxtaposing the maps of different cities. It is a way for him to question the city, to erase the boundaries between peoples, and give birth to a single territory in the imaginary space of his work.
Maina Boniface (b. 1987, Kenya)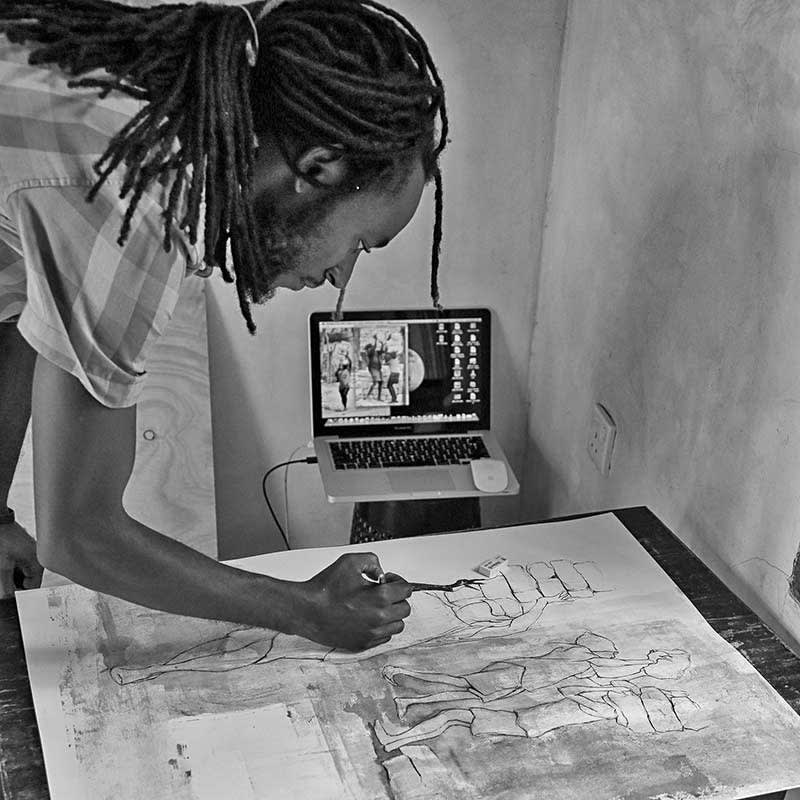 Maina Boniface was born in 1987 in Nanyuki town, Kenya, and currently lives and works in Nairobi. Maina is an inquisitive artist who started as a stretcher-bars maker for artists to support his artistic career. His work, since 2009, has been figurative and has evolved in the quest to tackle various themes: has touched on different themes such as social-political satire, music, conflicts in human behavior, and mental health. He is inspired by human reactions and his daily encounters, which he shows with his surrealist figures, and is currently experimenting with a combination of abstract and surrealism. The figures and forms in his work are distorted, sometimes exaggerated to marry the mood that the work exudes. The curiosity to know and try to comprehend how things and people co-exist brings out a path of discussion between the work and the viewer, thus leaving a sense of the undefined and room for further interpretation. Though a reclusive artist, he works predominantly with acrylics, although he is not shy to explore other mediums to tackle themes of interest and techniques.
In recent years, his work has been featured in magazines, art books, and news articles. His work has been exhibited locally and internationally in places such as Nairobi, Lagos, Dubai, Venice, Paris, Hamburg, Jo'burg, and Denmark and is in private and public art collections. In Nairobi, he is a founding partner of BRUSH TU ART STUDIO/ COLLECTIVE.
Ngugi Waweru (b. 1987, Kenya)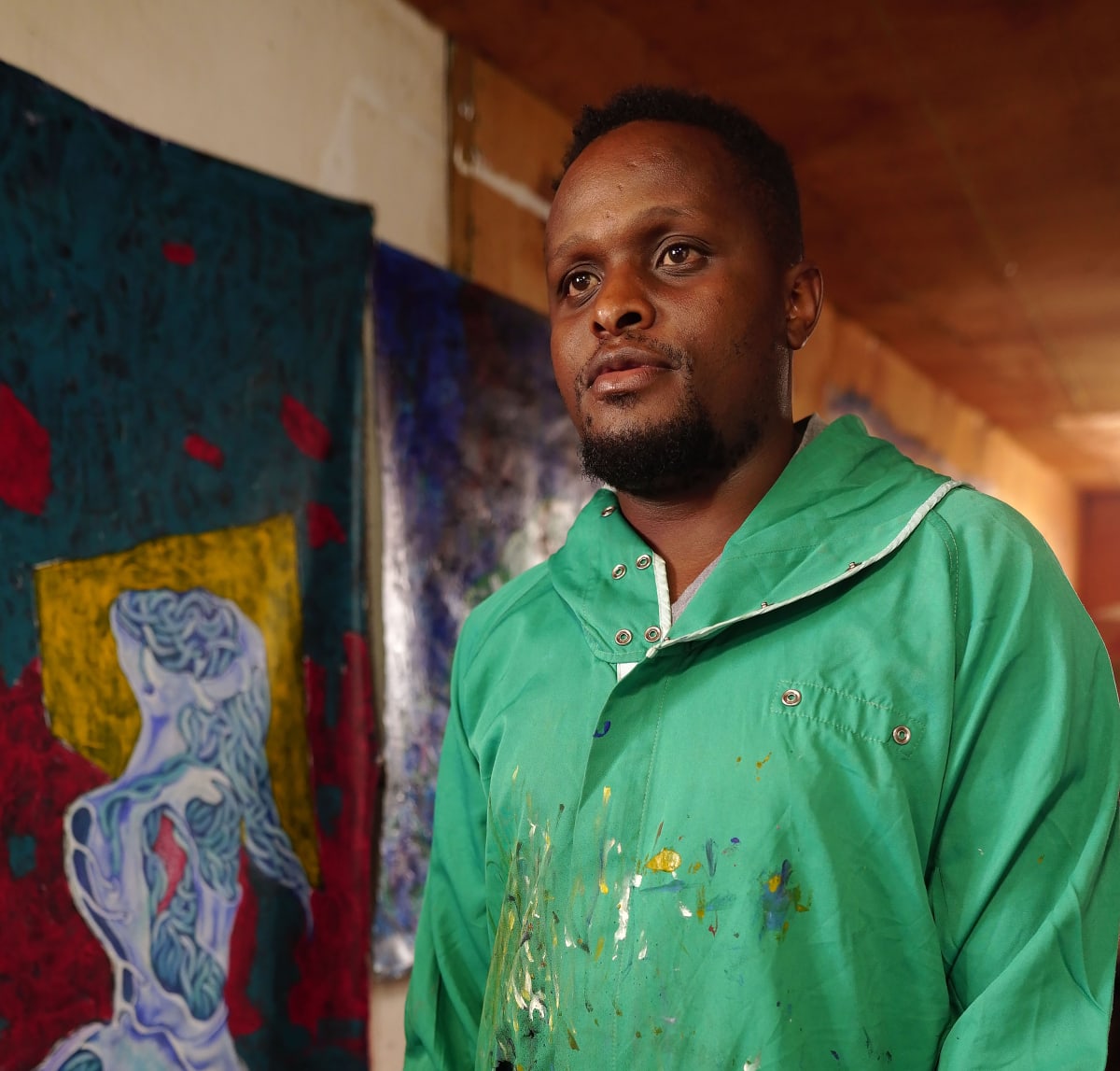 Ngugi Waweru is a multimedia artist born in 1987 in Mukuru, Kenya, but he grew up in Nairobi, where he currently lives and works.
Unlike most artists, who capture their art aptitude in their primary school years, Ngugi is a self-taught artist who mostly works with woodcut prints and mixed medium painting on canvas. He experimented with art only after observing his friends who had already graduated from an art college practicing art. Having already cultivated a passion and skill in art, Waweru resolved to embrace it full time.
Growing up in the biggest informal settlement in Nairobi, Ngugi clung to art as a recluse from drug crime and unemployment. Along with his friends, he founded the Wajukuu Arts collective through which he mentors the youth of the settlement till date.
In 2015, Ngugi emerged 2nd runner up in the Manjano Art competition. As a Wajukuu artist, the artist participated in documenta 15, Kassel, Germany, in 2022, and his selected sculpture was collected by the Neue Galerie in Kassel. The collective won the Arnold Bode prize 2022.