Ameh Egwuh is returning this October with his third solo exhibition at Rele Gallery, Lagos. For this exhibition, It was meant to be a game, Egwuh deviates from his brightly coloured canvases to offer new experiments in painting and drawing while retaining a fundamental preoccupation with line and traditional mark-making.
On view from October 22 till December 6, 2023.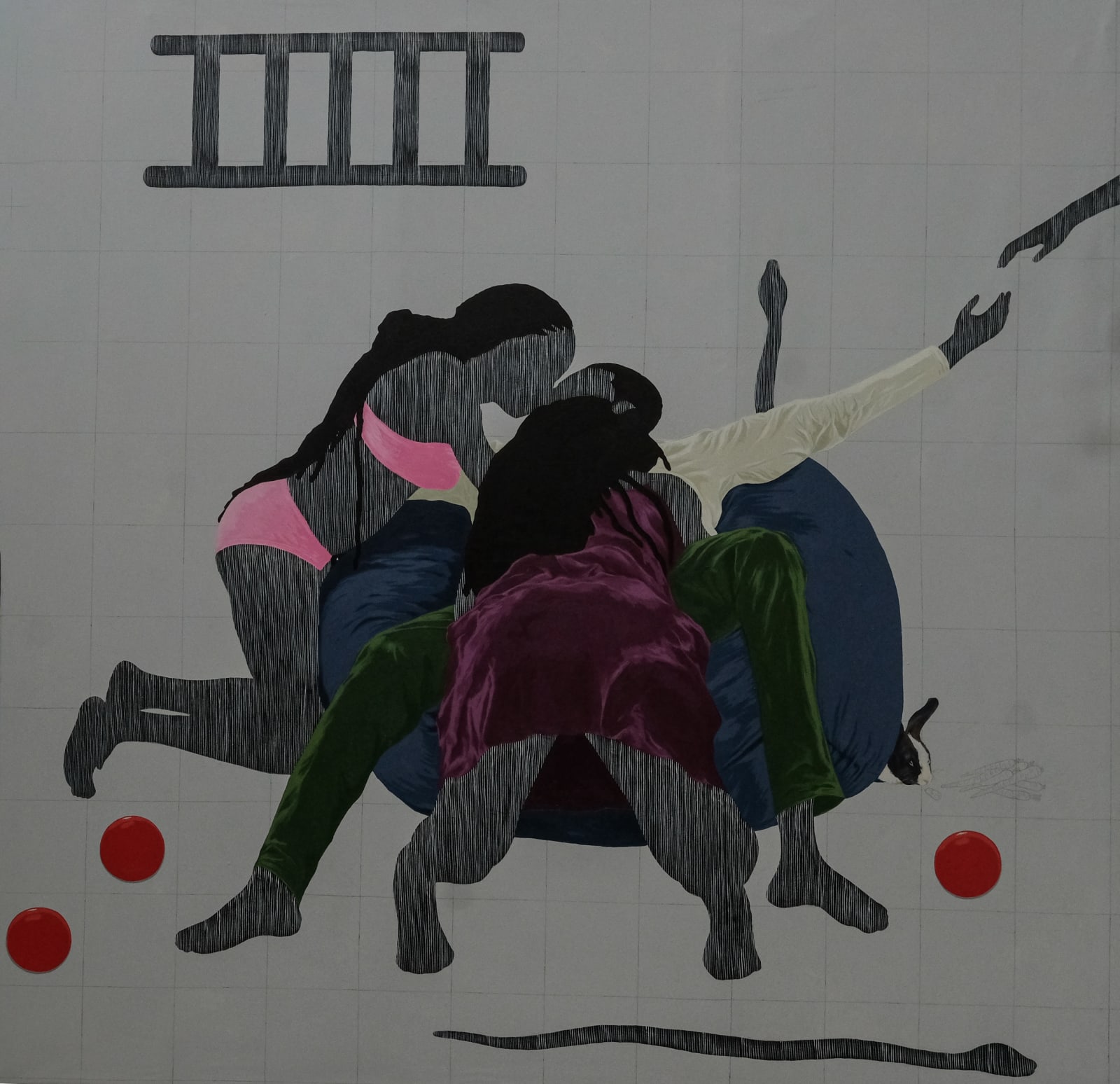 Born 1996, Ameh Egwuh is an artist whose paintings are characterized by a fascination with the line. His lines are inspired by indigenous pictograms and aphorisms – Adinkra and Nsibidi signs – as well as the scarification techniques of ancient Ife art, which involved etching striated grooves onto faces. His works are known to invite the viewer into expansive, multi-layered worlds from the familiar to the surreal, presenting us with fantasy images of transcendence and intimate, casual scenes of play and rest.
Exploring themes of home and familial responsibilities, solitude, identity and duality and death and the afterlife, Egwuh utilizes multiple modes of representation from expressionistic painting techniques to geometric patterns — drawn from textile designs from his hometown, Idoma in Benue state — in representing form and space. His eclectic visual vocabulary conveys varying textures of lives lived and spaces occupied.
For this solo exhibition, Egwuh presents multiple paintings on canvas and works on paper while employing a mixture of lines and images drawn in graphite to create grayed-out, muted backgrounds in contrast to the painted central subjects. The pieces in this exhibition, which feature subjects against checkerboard landscapes with striped images of snakes and ladders floating, are influenced by and make reference to the vintage Snakes and Ladders games. The exhibition centers on the individual and collective decisions that shape our perception of the moral and social aspects of life, much like the game's origins, which have their roots in Indian philosophy and were originally intended to teach moral lessons to children and adults.
Although the "Snakes and Ladders" game is still widely played in modern cultures as a simplified version of a game for amusement and luck, its original meaning was to symbolize the idea of karma and the path towards spiritual enlightenment. In the game, ladders were viewed as representations of virtues and good deeds that brought players closer to enlightenment. On the other hand, the snakes stood for vices and immoral behavior that could cause players to stray from their spiritual path. In his paintings, Egwuh evokes a moment, interaction or state of being in examining tangible and abstract ideas that govern aspects of social engagement and an individual journey through life.
Egwuh's canvases are replete with scenes that evoke moral dichotomies like the game, but without the satisfying ending. One can interpret various moral positions, including those related to religion, power, lust, love, and greed, from one canvas to the next. The audience is left to debate morality since the artist does not pass judgment on the acts that transpire against the backdrop of tumultuous backgrounds in his presentation. Rather, he acts as an impartial conduit through which the characters, events, and intimate details of life are presented. The artist presents duality and dichotomy—between free will and fate, virtues and vices, desire and destiny—while examining various interpretations and ideas about existence.
In his gray backgrounds and drawings in graphite, Egwuh invites the audience to have a closer inspection, to meticulously tease out the nature of objects devoid of color; is the spill at the foot of the armed man a puddle of water or a pool of blood? How do these different possibilities affect our reading and understanding of the larger composition? The artist refers to every single work as a moment, conveyed by an impartial narrator. In viewing these works, we begin to play a game of sorts, imagining what ends of the morality spectrum the moments on view belong to. Or do they exist beyond the simple duality of black and white, in the more marginal, ambiguous sphere of the gray?