The 16th edition of FNB Art Joburg fair (7 – 10 September 2023) presented one of the best shows this month .
Following another successful year of the FNB Art Joburg Fair, we are left to reminisce on the multidimensional and highly expressive artworks that make us yearn for more days to bask in their presence. Known as the leading and longest running contemporary art fair in Africa, FNB Art Joburg Fair continued this year to play an instrumental role in developing and sustaining a commercial industry that centres around African and diasporic practitioners.
Here are some of our favourites at Art New Africa.
ERIN LEANN MITCHELL, Kum buba yali, Kum buba tambe, Amen, Amen (2023) at Wunika Mukan Gallery
Influenced by the works of Faith Ringgold and Kerry James Marshall, US-based artist Erin LeAnn Mitchell's works are a mixture of textiles, painting and collage. Mitchell is inspired by narratives of southern Blackness and afrofuturism. By centering the black futures, she seeks to propel Black people into a space and time that enables them to live authentically free. As a continuum of those who came before and those who will come after, she delivers messages of a brighter future in the Black experience.
Her work 'Kum buba yali, Kum buba tambe, Amen, Amen' is inspired by Virginia Hamilton's folktale, The People Could Fly. According to the tale, enslaved Africans had wings and could fly. In order to escape the abuses of slavery, they sang ancient African magic words, Kum buba yali, Kum buba tambe, to transform their bodies into black birds giving them the ability to fly home to Africa. "Kum buba yali, Kum buba tambe, Amen, Amen" is emblematic of my flight from the south (Birmingham, AL) to South Africa.
ZACHARAHA MAGASA, Kupona nepaburi retsono (Lucky escape) Part 1 (2022) at First Floor Gallery Harare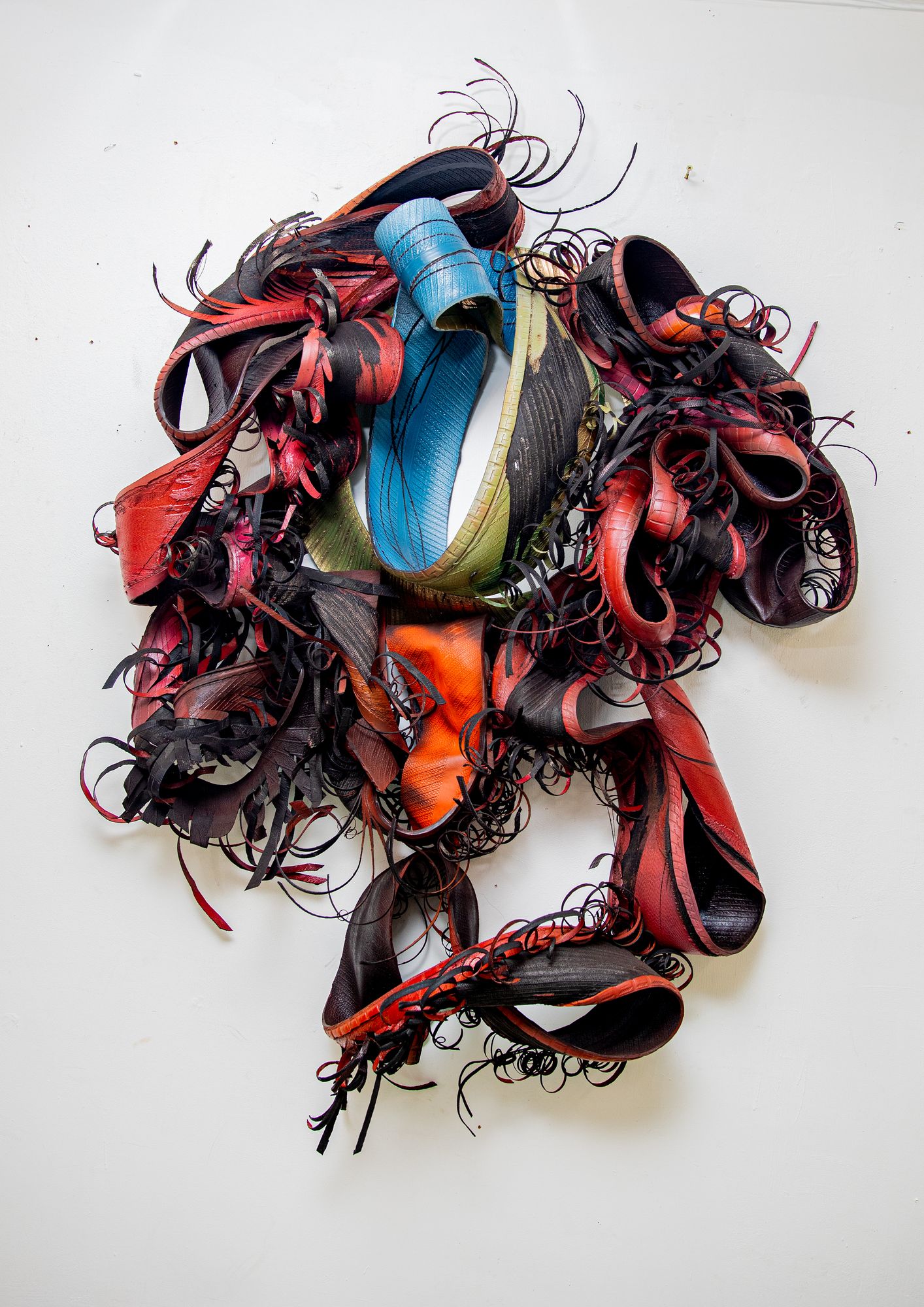 Born 1988 Harare, Zimbabwe, Zacharaha Magasa's works are driven by lines of direct and indirect dialogues of everyday life. Interested in notions of socio-politics, environmental decay, territorial or land and cultural resistance, his stories normally emanate from his immediate surroundings. He selects dialogues from politically motivated gatherings, distractive systems of consumerism and environmental negligence practices.
"I believe language and communication is expressed in different ways depending on the intent of the message. Climate change is a message so is police brutality and all the conversations of life. Though I use different types of non-conventional materials rubber is the most prevalent because of its potency and association with slavery and oppression both in Africa and around the globe. In my method of work I use lines to draw figurative or symbolic forms, to represent movement but also drift in and out of figuration and are references to both contemporary political events as well as childhood memories. For me different materials and their capacity for manipulation are an opportunity to explore and develop ideas and carry meaning, like telephone lines, which move information from one place to the other or spheres which can be morph into figures, while recalling footballs, we wove out of plastic as children. Concurrently using rubber strips, which can be woven to mean speaks to Zimbabwean traditions and ideals of unity among people and unison with nature."
SERGE ALAIN NITEGEKA, 𝘓𝘪𝘮𝘪𝘯𝘢𝘭 𝘊𝘢𝘳𝘨𝘰 𝘝𝘐𝘐𝘐, at STEVENSON
Johannesburg-based artist Serge Alain Nitegeka (b. 1983) works in painting and sculpture and is especially committed to his large-scale, site-specific installations. Influenced by his early experience as a refugee, Nitegeka produces works that address issues of identity sparked by forced migration and cultural and political borders. His installations present obstacles that promote participation in this metaphoric experience: they physically bisect three-dimensional space and use the viewer as a further disruptive variable, resulting in a tableau vivant of sorts. Nitegeka's acute, investigatory aesthetic sense places him within the rich art historical cadre of minimalism and abstraction, while the larger concepts he tackles resonate in the atmosphere of today's global politics.
NKECHI EBUBEDIKE, Woman/Angel (2023) at Wunika Mukan Gallery
Nkechi Ebubedike, known for her experimentations with the distortion and suspension of meaningful, culturally significant images. Her works, rooted in personal archives, incorporates painting, alongside archival photographs and found objects into collages and sculptures.
At the FNB Art Joburg fair, she presented her 'Wood series' which reflects the artist's foray into experimentation with more organic materials, specifically wood and natural inks. The figures in this series carry thematic similarities with past work in that women remain the focus, and the layered and tangled self-gaze remains. However, the use of natural materials has prompted the artist to respond to the natural world in the form of hybridized figures.
OUSMANE BA, Eros (2023) at ODA Gallery
Ousmane Ba's work explores our relationships with self, the dynamism of movement, and our engagement with nature. Inspired by the art of calligraphy, he uses ink, as well as the techniques of Japanese printmaking, as a way to highlight bodies that are underrepresented and invisible in art circles through a body positivity lens. With weightless silhouettes arching and floating in each composition, Ba focuses on enacting the spiritual essence of peace and harmony–inspired by his Fulani background, a traditionally pastoral nomadic community. As a result, his figures become a motion vector that represents a metaphor for life, one where unity and oneness exists.