Ibrahim Mahama, a Ghanaian artist born in 1987, is well-known for his expansive works. He was born in the town of Tamale in the northern part of Ghana. He splits his time between Tamale, Ghana, and Accra, the nation's capital. He studied painting and sculpture at the Kwame Nkrumah University of Science and Technology, Kumasi, Ghana. Mahama is perhaps known for his peculiar artistic methods, including taking discarded items from his homeland Ghana and placing them in different art spaces.
In his installations and wall-based works, Ibrahim Mahama considers the ways in which capital and labour are expressed in common materials. He uses the transformation of materials to explore themes of commodity, migration, globalisation and economic exchange. Included in the 2015 Venice Biennale, Mahama is best known for his use of jute sacks, cloth bags once used to carry cocoa and now employed as vessels for coal. Each sack is inscribed with names and embellished with regional patterned fabrics. Mahama's interest in material, process and audience first led him to focus on jute sacks that are synonymous with the trade markets of Ghana where he lives and works. Fabricated in Southeast Asia, the sacks are imported by the Ghana Cocoa Boards to transport cocoa beans and eventually end up as multi- functional objects, used for the transportation of food, charcoal and other commodities. 'You find different points of aesthetics within the surface of the sacks' fabric', Mahama has said. 'I am interested in how crisis and failure are absorbed into this material with a strong reference to global transaction and how capitalist structures work.'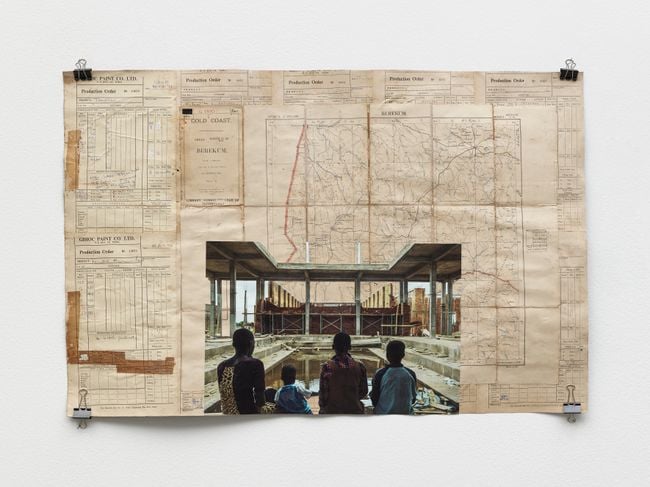 Currently represented by White Cube, Mahama has become one of the most prominent African voices in the art world. In his early thirties, his works have already been exhibited at the Biennale of Sydney, the 56th International Art Exhibition of the Venice Biennale in Italy and documenta 14 in Kassel, Germany and Athens, Greece. Mahama was named in the list of the most influential Africans for the 2019/2020 edition by The Africa Report.
He has created large-size installations worldwide, including Milan (in collaboration with the Trussardi Foundation in 2019). His work has also been shown at the Norval Foundation in Cape Town in 2019 and the Eli and Edythe Broad Art Museum at Michigan State University in 2015. In addition to making art, Mahama also founded and run a non-profit cultural organization and exhibition space called the Savannah Center for Contemporary Art (SCCA), which launched in 2019 in his hometown, Tamale.
Mahama is currently an artist in demand worldwide, even more than in Africa. There is a huge banner with his image outside the Whitworth Museum. "It is very strange to appear that way," the artist says of his banner. Moreover, he is under the UK-based White Cube and became the youngest artist to showcase in the first Ghanaian pavilion at the Venice Biennale in early 2019.
His work has appeared in numerous international exhibitions including NIRIN, 22nd Biennale of Sydney (2020); tomorrow, there will be more of us, Stellenbosch Triennale (2020); Future Genealogies, Tales From The Equatorial Line, 6th Lubumbashi Biennale, Democratic Republic of the Congo (2019); Parliament of Ghosts, The Whitworth, University of Manchester (2019); Ghana Freedom, inaugural Ghana pavilion, 58th Venice Biennale, Venice (2019); Labour of Many, Norval Foundation, Cape Town (2019); Documenta 14, Athens and Kassel (2017); All the World's Futures, 56th Venice Biennale, Venice (2015); Artist's Rooms, K21, Düsseldorf (2015); Material Effects, The Broad Art Museum, Michigan (2015); An Age of Our Own Making, Kunsthal Charlottenborg, Copenhagen and Holbæk (2016) and Fracture, Tel Aviv Art Museum, Israel (2016). In March 2019, Ibrahim Mahama opened the artist-run project space Savannah Centre for Contemporary Art (SCCA) in Tamale, Ghana, followed by the opening of a vast studio complex, Red Clay, in nearby Janna Kpeŋŋ in September 2020. Encompassing exhibition space, research facilities and an artist-residency hub, both sites represent Mahama's contribution towards the development and expansion of the contemporary art scene in his home country. In April 2021, Mahama opened a renovated silo, Nkrumah Volini, in Tamale. This is the third educational institution he has opened in Northern Ghana since over the past two years.